Guided Biofilm Therapy (GBT) in Downtown Edmonton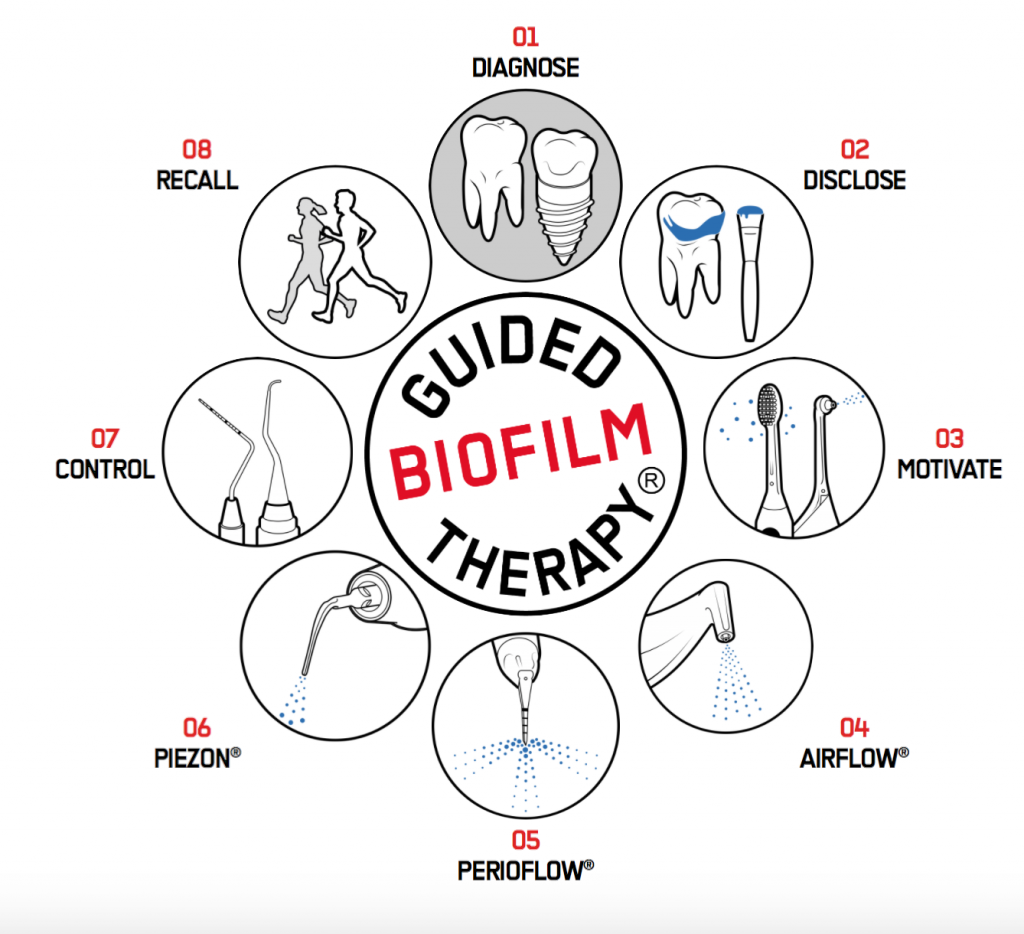 Guided Biofilm Therapy (GBT) is a dental cleaning procedure that aims to remove dental biofilm, commonly known as dental plaque, from teeth and gums. It is a comprehensive approach to oral hygiene that uses a combination of technologies and techniques to achieve optimal oral health. Traditional cleaning methods involve manual (hand) and ultrasonic (electronic) instruments. GBT, on the other hand, uses AIRFLOW®, PERIOFLOW®, and PIEZON® PS technologies (see below for descriptions) that deliver deeper cleaning without directly touching the teeth and gums.
GBT is becoming an increasingly popular method of dental cleaning because it is effective, efficient, minimally invasive, and comfortable for patients. By removing dental biofilm, GBT helps to prevent tooth decay, gum disease, and other oral health problems, promoting a healthy smile.
GBT is also a great option for those who want to remove teeth staining from coffee, tea, wine, and tobacco consumption, and is advised before receiving tooth whitening to achieve better results.
There are 8 steps to the GBT procedure:
ASSESS: The examination and diagnosis of teeth and gums help determine the right therapy for treatment efficacy and comfort. You'll also get an oral cancer screening as well.
DISLCOSE: Using a specific type of dye makes the biofilm visible, highlighting any problematic areas and guiding the cleaning process. Without the dye, there would be no biofilm to see.
MOTIVATE: Prevention is always better than cure. Based on your needs and preferences, you'll then receive a tailored oral hygiene routine (including brushing, and flossing techniques, as well as recommendations for oral care products) to maximize your home care. This will ensure that your teeth and oral health stay healthy and strong.
AIRFLOW®: Using a gentle combination of warm water, air, and fine powder biofilm, stains, and early calculus are gently removed from the teeth and gums.
PERIOFLOW®: PERIOFLOW® is an advanced cleaning technology that cleans deep periodontal pockets, gently and thoroughly.
PIEZON® PS: PIEZON PS is a targeted, painless, and gentle way to remove calculus in hard to reach areas of the mouth.
CHECK: Check if the biofilm, discolorations, and calculus have been completely removed from your teeth.
NEW RECALL: Schedule your next appointment.
AirFlow® is a handpiece used for dental cleaning and polishing. It removes deposits up to 4 mm below the gum line.
Like AirFlow, PerioFlow® is a handheld device used for periodontal therapy. It removes calculus from gum pockets as deep as 9mm.
Piezon® comes with ultrasonic tips and dynamic response features that remove tartar safely and accurately. It can remove up to 95% of biofilm above and below the gum line.
These devices are used to gently remove biofilm, staining, and light deposits. These procedures are so gentle they can be used on natural teeth, restorations, orthodontic braces, implants, the tongue, and gums.
Guided Biofilm Therapy is important for oral health as it helps:
Preserve healthy teeth
Prevent caries
Treat exposed dentine
Detect caries at an early stage
Preserve aesthetic restoration
Preserve healthy soft tissues
Maintain Implants
Treat Gingivitis, Mucositis, Periodontitis, and Peri-implants
GBT is beneficial in every industry including General Dentistry, Orthodontics, Implantology, Pediatric Dentistry, Aesthetic Dentistry, Periodontology, Gerodontology, Endodontology, and Oral surgery.
Magathan Dental is an Official provider of 'Guided Biofilm Therapy'. Book an appointment for Guided Biofilm Therapy (GBT) with Dr. Magathan.