Pomegranate, Kale and Wild Rice Salad with Walnuts and Feta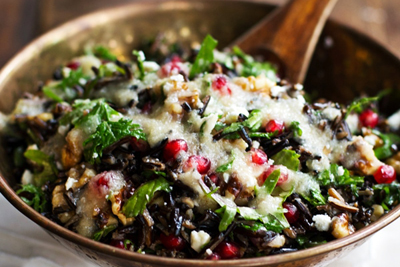 Is healthy eating part of your New Year's resolution? How about something easy, healthy, AND also colourful and beautiful to look at? If you answered yes, then this is the recipe for you!
Ingredients:

For the Salad

1 cup of pomegranate seeds
2 cups of chopped baby kale
2 cups of cooked wild rice (you can use leftover rice or buy precooked)
1/4 cup of toasted walnuts
1/4 cup of feta cheese
For the Dressing
1/2 cup of minced onion or shallot
2 tablespoons of olive oil
2 tablespoons of water
2 tablespoons of honey
1/2 tablespoon of apple cider vinegar
1/2 teaspoon of salt
1 squeeze of lemon or orange juice
Directions:
Prep the salad ingredients (chop, rinse, toast, etc.). Chill the ingredients in the fridge while you are making the dressing (if you would prefer a cold salad)
Mince the shallot or onion and saute in 1/2 tablespoon of olive oil to reduce the bite. When it is soft and fragrant, remove from heat and transfer to a food processor. (If you want a stronger flavor for your dressing, skip the sauteing altogether)
Pulse the onions or shallot with the remaining olive oil, water, honey, apple cider vinegar, salt, and orange juice until it is smooth and creamy.
Taste and adjust. Add additional olive oil or water to keep the mixture moving through the food processor
Toss the salad ingredients together with the dressing just before serving.
Recipe Courtesy of:
pinchofyum