Parmesan Brussels Sprouts Salad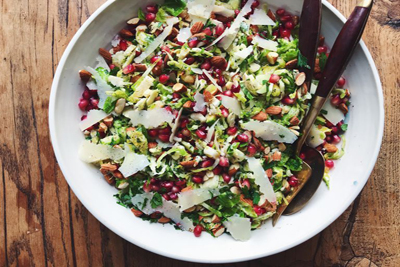 Brussels sprouts are in season during the colder months, so here is a quick and easy dish to take advantage of this delicious vegetable. You can prepare it as a side with your holiday meals to share with your friends and family.
Ingredients:
5 tbsp. extra-virgin olive oil
5 tbsp. lemon juice
1/4 cup freshly chopped parsley
Kosher salt
Freshly ground black pepper
2 lbs. brussels sprouts, halved and thinly sliced (about 8 cups)
1/2 cup chopped toasted almonds
1/2 cup pomegranate seeds
Shaved Parmesan cheese, for serving
Directions:
In a medium bowl, whisk olive oil, lemon juice, parsley, 2 teaspoons of salt, and 1 teaspoon of pepper until they are combined.
Add brussels sprouts and toss them until they are completely coated.
Let it sit. Toss the salad occasionally for at least 20 minutes and up to 4 hours before you serve it.
Add almonds and pomegranate seeds and garnish with shaved Parmesan cheese before serving.
It is time to enjoy!
Recipe Courtesy of:
Delish