Mini Pecan Butter Apple Rose Tarts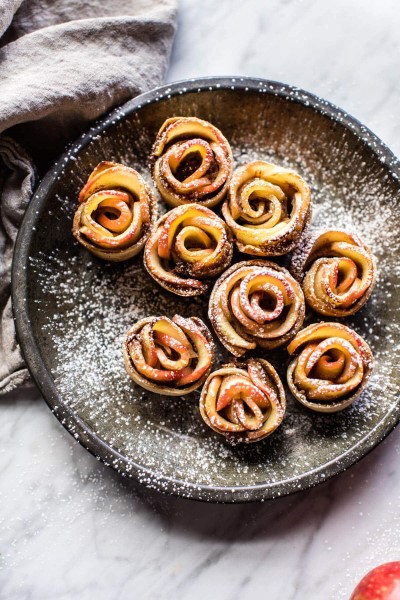 Apples are in season during November so here is a quick and creative apple treat you can make to share with your friends and family.

Ingredients:
2 Honey Crisp or Red Apples
Juice of 1/2 of a lemon
1/4 cup of brown sugar
1 tablespoon salted butter at room temperature
1/2 cup of raw pecans
1 teaspoon of vanilla extract
8 Large Tortillas
Powdered sugar for serving
Directions:
Preheat your oven to 375 degrees F. and while you wait, grease a cupcake pan
Core the apples and cut them in half, then slice into 1/8-inch slices using a knife
Place the apples in a bowl and fill it with water
Add the lemon juice, 1/2 teaspoon of cinnamon and 1 Tablespoon of brown sugar
Transfer to the microwave, cook for 45 seconds or until soft and then let it cool
In a food processor, combine the butter, remaining brown sugar, remaining cinnamon, pecans and vanilla.
Pulse until a smooth paste form (2 - 3 minutes)
Cut the tortillas into 2-inch wide strips and microwave them each for 5 to 10 seconds until they are soft.
Spread the pecan mixture evenly over each strip and then arrange the apple slices lengthwise so they are overlapping each slightly along the tortilla strip
Fold the bottom half of the tortilla over the apples and press gently to adhere
Tightly roll the dough from left to right to create a rose
Once step 11 has been repeated for all the remaining ingredients, transfer to the oven and bake for 20 to 30 minutes or until the tortillas are lightly crispy and golden
Serve at room temperature and as a finishing touch dust powder sugar
Suggestion
If you are running low on time, assemble the tarts the night before. Once done, cover them and place them in the fridge for a day.
Recipe Courtesy of:
Half Baked Harvest