Infection Control: Why It Matters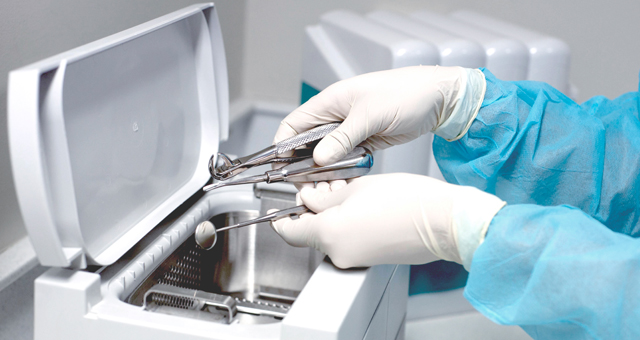 Infection prevention and control (IPAC) is of paramount importance at our dental office for the protection of both patients and our staff. With recent health scares such as necrotizing fasciitis (flesh-eating bacteria) in the news, it is more important than ever to ensure that you receive your dental care in a clean and safe environment that maintains strict infection control protocols and routine practices, like the one at Magathan Dental Centre in Downtown Edmonton.
Here are the signs of good infection control to look for when you visit the dentist:
Handwashing
Hand hygiene is the most important measure to prevent the spread of diseases among patients and health care providers. Dentists should be washing their hands with soap before putting on gloves and immediately after removing gloves. If you don't see them washing their hands before treating you, ask about it!
Protective Equipment
All dental staff are required to wear protective equipment such as gloves, face masks, eyewear and other protective clothing when treating patients. These are used to protect skin and personal clothing from contact with body fluids that could lead to the spread of diseases. It is important that your dentist wears these equipments and also provides you with protective eyewear during dental procedures that are likely to general splashes or spattering of fluids, such as teeth cleaning.
Dental Instruments
Look for your dental staff to open dental instruments after you arrive in the office. Chemical indicators are contained in each instrument pack, which monitor and indicate that sterilization parameters have been reached during the sterilization process. Once the instruments are opened, they are no longer sterile and are exposed to the surrounding environment. All non-disposable dental instruments should be cleaned, disinfected, and sterilized between patients. Ask your dentist whether they use heat sterilization and ask to see the sterilization area if needed.
Surface Cleaning
All surfaces in the examination room, such as the dental chair, dental light, instrument trays, drawer handles and countertops, should be cleaned and decontaminated. Surfaces that are difficult to clean, such as switches and computer equipment, should be protected with disposable plastic barriers that are replaced between patients.
Waste Handling
Make sure that your dentist discards all infectious waste, such as disposable syringes and needles, in appropriate containers. The containers are usually red or white, are clearly labelled for infectious waste and are puncture-resistant. This is especially important to ensure infectious waste do not get into the public garbage system and endangering many people.
At Magathan Dental Centre, we follow strict infection protocols and best practices guidelines that are provided by the Alberta Dental Association, the Health and Safety Administration, and the Center for Disease Control to protect against infectious diseases. If you are nervous or unsure about the cleanliness of anything, do not hesitate to ask us. You deserve a clean and safe experience at the dentist's office and the peace of mind that your health is a top priority!